August 12, 2019 - developments in Marshall Texas, hemp fed beef, and a return to AdventGX and Texas A&M University

Interestingly, the first "automatic writing" that I experienced, except for the original proposal for the
Reverence for Life University in Jamaica
, was written 4 years after this Marshall proposal, on the same day. The essay is entitled "
Allowing
".
While working at Texas Parks and Wildlife, Texas Adventures we had planned a trip to Lake Caddo, near Marshall, where I was anticipating getting to meet Don Henley, of the Eagles
Craig Lee
was contacted about hemp fed beef in Marshall - more news to come soon!
The movie Rudy is reminiscent of Friday Night Lights, and the movie We Are Marshall.
In 2005 we had planned to do a leadership program (
draft archive
, pdf) with the Real Rudy and I met him at a restaurant in College Station. This program preceded the creation of the first summary Community Empowerment Strategy (
archive pdf
), which was the beginning for my Vision Book (462 pages). This concept was taken to Washington DC where I lobbied 5 congressmen, and 9 program leaders with USDA (to absolutely no avail). However, one of my associates took this document and presented it to Texas Engineering Extension (TEEX) and created a job for herself, of course not informing me. I had been teaching a very robust course to Economic Development Directors at this time (
A New Pair of Glasses
).
"Leadership" never came to fruition with AdventGX, however, I have continued to develop this very important area for community success, which is also tied to community empowerment, through Service based activities (see
Reaching Out from Within
). Another short course that came as complete inspiration while I was living in Colombia, South America. As I was meditating on the Aneime River (Cajamarca, where AngloGold Ashanti was pursuing the 2nd largest gold discovery in the world, purportedly) I received a download for
Solomon Individual Empowerment Star
(SIES), which was originally conceived by Dr. James Kimmel (
Effective Interpretation - telling the story of people and places
) and myself while I was working as the graduate assistant at the Center for Nature and Heritage Tourism at Southwest Texas State University, Geography Dept.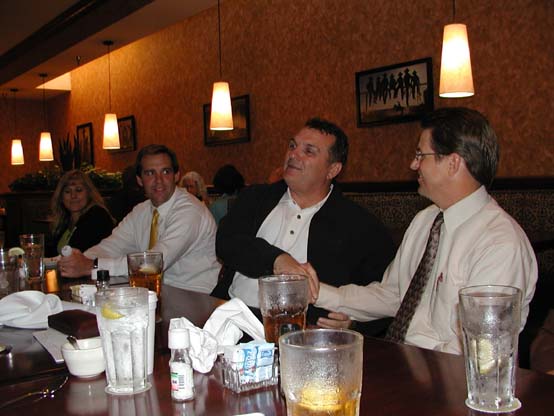 Left to right, Joan Tatge, Jeff McCoy (Van Horn Economic Dev.),
Daniel "Rudy" Ruettiger (Rudy movie)
, Andy Skadberg (Chief Knowledge Officer, AdventGX)
Photo from 2005, approximately,
AdventGX