Sharing the Vision - the life work of Andrew Skadberg
In simple terms, the guiding principles for all of my life's work, and gathering these "tools" together to empower people to "re-create the world" are "Reverence for Life", "People helping people, while protecting the natural world" and "we're all in this together - we have to save ourselves, and each other". This page provides a fairly up to date summary/outline of many pieces that I am working on to build my life work (each item then links out to details around the item). It is a very unique endeavor and I am not sure what I would call it because I have never seen anyone else who was compelled to create something like this. I describe this in some more detail in the preface to my VISION book about how all this stuff has come together via my life experiences, guiding impulses and a strong desire to make a difference.
-
Being Guided to Make the Decision to Re-Create the World
This link provides a condensed version of the process by which I feel I have been guided/compelled to
World Proclamation for Emancipation 2011
is a statement that was written from an inspired state of being. Like much of my poetry which I feature at 13LightMessages, I wrote this piece without any editing. It is a bold statement, combined with practical resources that I have identified that can be created to begin talking and creating about "solutions" rather than problems.
Regional Revitalization and Empowerment Strategy
(RRES) -
an executive summary
of core strategies for
community diversification and individual empowerment. This is a key idea, connecting to tourism and
community development that is a theme throughout my work. As is highlighted by the people involved with
Tourism and Peace in various circles, I believe travel, tourism and people meeting people are one of the
strongest components for instilling world peace, in totality, but also a vehicle for revitalizing places and
empowering people. When we get to sit down and meet people from other places or cultures, it is amazing to
find that they are just people, and almost always, very, very kind. Then our differences dissolve and we can
create a world of peace, harmony and abundance.
Seeing the Bigger Picture
For visualization purposes, the two images below will help people understand "my art". I have been working on a masterpiece for a number of years but I have never been able to look at anything similar to what I have been creating. In a sense, I see things with a different vision, maybe intuition, and it might be similar to putting a puzzle together. I have used the puzzle diagram to help to conceptualize the pragmatic part of organizing a lot of various pieces that comprise a bigger picture. This puzzle diagram might be easier to understand in our world as we are pretty dependent on lower dimensional concepts.
The Flower of Life (or mandala) is also another tool that can be used. In some respects is the more powerful, and accurate conceptual diagram. I was introduced to this diagram by
Dr. Richard Ewing in 2006
when we were developing the strategy for a virtual, educational institute for Saudi Arabia. Dr. Ewing
drew the picture on the white board
for his vision for a network of mathematical and computational scientists to be organized from around the world. I digitized his diagram and then realized that this image was fundamental to my work for regional development strategies.
Since that time I have discovered that this image, called the Flower of Life is the organizing geometry underlying the totality of our multi-verse and all life. In the past few years I have found this diagram in expanding realms including sacred geometry, Egyptian hieroglyphs and quantum physics. If people would like some digression and a little more information, here are a few links ::

Quantum physics, Nassim Haramein
(amazing video about the nature of the holographic universe) ::
Spirit Science - Flower of Life
(beautiful, short video providing great information) ::
The Ancient Secret of the Flower of Life, Druvalo Mechilzedek
- the two volumes chocked full of incredible information based on workshops presented by Drunvalo.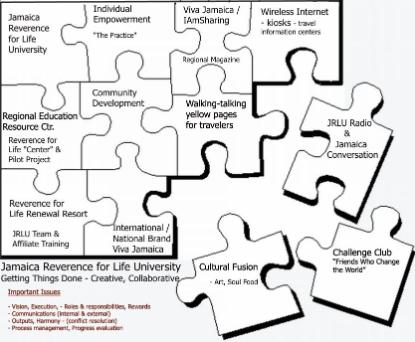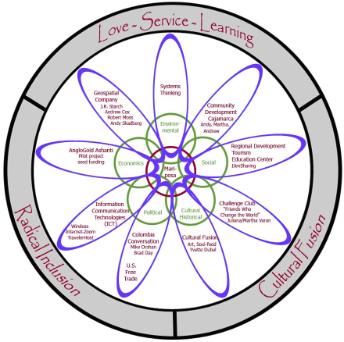 Vision - in Detail
The book "
VISION - We ARE Re-Creating the World: A Resource Manual "tool-box" for Revitalization and Empowerment Through Grass-roots Strategies and Environmental Awareness
"
Preface to the Vision Book
, how I came to do this work, and discovering Albert Schweitzer's Universal Principle -
Reverence for Life
Foundational or Universal Principle - Reverence for Life
Various Components in process
- The resources below are, essentially, pieces of the puzzle.
Reverence for Life University
- "The University of US [Universal Sweetness]. Is our main portal to many different resources, but
The Mission

of the RFLU is to

Share

The Practice

, as a life skill-set resource with every person in the world - one conscious deep breath at a time! The RFLU began with Desmond Green in Jamaica and the establishment of the Reverence for Life Foundation in the 1990's. In 2008 Desmond invited me to be part with the creation of the Global Breath Consciousness Institute.
Breathosp
here.com
- all life is supported by its breath. The universe is not made of atoms or thoughts. These are the "realities" and beliefs that we were given to us from self-proclaimed authorities (e.g. science, religion). There are no middle-men to source. We are each connected and supported directly via our breath. Breathosphere presents tools to help people find themselves which is their solution and what they have been looking for.
Breath
Consciously.com
- individual awakening and expanded awareness is how the world will change, one person at a time. Each person, ultimately, is their own savior via breath consciousness. This site is a recent addition to our doorways to the gifts we are Sharing with the world.
Global Breath Consciousness Institute
(Reverence for Life University & Fellowship, Self Management Institute)
The Mission
of GBCI, SMI & RFLU is to
Share
The Practice
, as a life skill-set resource with every person in the world - one conscious deep breath at a time!
The Practice provides the simplest, yet most powerful, process for individual empowerment that I have found in 31 years of study. It is non-dogmatic, and addresses the key elements for successful living, especially during this times of great change in this world. The Practice and the "4th R", by Desmond Green are available in the book, FOR FREE,
The Global Citizenship Passport
. - pdf document.
VISION Excelerator
- Engaging Experience
(Visioning, Inspiring, Strategizing, Incubating, Organizing, Neomancity) The VISION Excelerator aims to fill a gap in existing business incubation and development and entrepreneurial training by supporting business creation and growing businesses and organizations, assisting them to be more successful and profitable. To accomplish this we will support people who have ideas, dreams, visions and a desire to pursue the creation of a business, organization or initiative.
QC Collective
The QC Collective was the portal through which the creative and entrepreneurial energies of friends and acquaintances will be gathered an distributed throughout our region. By Sharing our ideas and visions, promoting our goods and services, and encouraging our individual and social efforts, we create a network dedicated the good that is going on in our communities, while also supporting each other's dreams and aspirations.
An experiment in cooperative business, we are focusing on creating a place for energies to gather, utilizing a beautiful shop on the banks of the Grand Ole Mississippi River - combined with the power of the Internet to support and promote a collaborative network.
Rural Innovation Institute
I call this my
NEW University of Phoenix online
. Instead of having people spend 1, 2, or 4 years to get a degree, the RRI will provide people practical information in usable "chunks" - featuring modularized, practical information, the RRI is designed to assist people to get the information and instructions about how to do something in the shortest amount of time. Changing time are presenting new ways that we can reach out to people and provide services. The best way to offer these service is through an educational vehicle.
Experience Co-Evolution Group
Community and Tourism Consultants:
Our Expertise in sustainable community and tourism development has been developed from decades of work and searching for the best models across the globe. Our philosophy is "why re-invent the wheel" when innumerable success strategies can be found to adapt to your region or community.
Our expertise focuses on economic, social and environmental - utilizing the power of cooperatives, creativity, experiential education and technology.
Eye Am Sharing
This is an idea of a "collaborative network" our endeavor here is to capture a new audience that might have a desire to share a little bit more about themselvs to a like minded group, or community of people. The phenomena of online communities are expanding, but the meaning or substance that they portray, in my opinion, still misses a tremendous opportunity to bring people together to Share. This is not just about networking, or socializing - it is about coming together as ONE global community to empower each other, to make our dreams come true, while at the same time engaging the power of cooperation.
Wireless Internet and Traveler Information
-
Video of original pilot
::
Zoom Information
::
Historical development
::
Chapter in Vision Book - Tourism Case Study
pdf document
HOME (Honoring Our Mother Earth) Communities
The Vision for HOME Communities is to create a network of communities that will utilized the best principles for social, economic and environmental viability - benefitting the community member's individual, personal and spiritual development in total harmony with the natural environment (Mother Earth, Gaia). The foundation principle for establishing our HOME Communities is on the realization and manifestation of Peace and Abundance for all of the members of the community, and for re-establishing our most critical connections to the nature environment. By creating these "seeds" or harmonious, sustainable communities we will provide success models for other communities and people interested in creating better living environments.
We understand that you work hard for the freedom to experience leisure, and we want your traveling experiences to be uplifting, relaxing, and forever etched in your mind. Our focus uniquely combines memorable and exotic travel, while honoring the culture, traditions, and stories of the place.
Organizing the Toolbox
- gathering resources and case studies for addressing community areas of need.

Chapter in the Vision Book - Solomon Source Toolbox
Part I,
Part II
-
Food
-
Energy
-
Community Development
-
De-fragging / Examining the Matrix, The game
-
Learning about who and what we are
-
Individual empowerment
-
Gathering tools for the tool-box - pdf
- Local/Regional efforts, directory ::
Hybridized Community Diversified Cooperativ
e (HCDC) Chapter in Vision book pdf document (free)
- International ::
India/Africa
::
Jamaica
::
Colombia, S.A
Other links where information, and writings of Dr. Andy are a few blogs"
13LightMessages
,
Experiential University
,
Solomon Source: Building Bridges to the Future
.